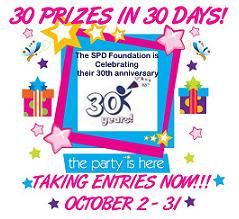 As many of you may know, my little Daniel was diagnosed with Sensory Processing Disorder back in January. This is a widely misunderstood disorder, usually diagnosed in children before they can receive the official autism spectrum diagnosis at the age of 3. Children with Autism often also have SPD but children with SPD do not necessarily have an Autism spectrum disorder.
Before Daniel's diagnosis of SPD, I had never heard of this disorder. Daniel now receives occupational therapy, speech therapy, and Austism therapy and we are starting to see amazing results. It is like he is a different kid already!
Lucas's Journey with Sensory Processing Disorder is hosting this amazing SPD awareness event. There is over $1000 in prizes, I have donated some hand knit dish cloths and one of my cookie mixes.
If you are interested in learning more about SPD, you can visit the SPD foundation website. There is a lot of really excellent information, it was my lifeline when Daniel was diagnosed. Here are some of the red flags in case you think you or someone you love might be at risk for SPD (copied from the SPD foundation):
Infants and toddlers
____ Problems eating or sleeping
____ Refuses to go to anyone but me
____ Irritable when being dressed; uncomfortable in clothes
____ Rarely plays with toys
____ Resists cuddling, arches away when held
____ Cannot calm self
____ Floppy or stiff body, motor delays
Pre-schoolers
____ Over-sensitive to touch, noises, smells, other people
____ Difficulty making friends
____ Difficulty dressing, eating, sleeping, and/or toilet training
____ Clumsy; poor motor skills; weak
____ In constant motion; in everyone else's face and space
____ Frequent or long temper tantrums
Grade schoolers
___ Over-sensitive to touch, noise, smells, other people
___ Easily distracted, fidgety, craves movement; aggressive
___ Easily overwhelmed
___ Difficulty with handwriting or motor activities
___ Difficulty making friends
___ Unaware of pain and/or other people
Adolescents and adults
___ Over-sensitive to touch, noise, smells, and other people
___ Poor self-esteem; afraid of failing at new tasks
___ Lethargic and slow
___ Always on the go; impulsive; distractible
___ Leaves tasks uncompleted
___ Clumsy, slow, poor motor skills or handwriting
___ Difficulty staying focused
___ Difficulty staying focused at work and in meetings
I hope you will consider participating in this important event!