HAVE YOU ENTERED THE "MAKE YOUR OWN BABY FOOD KIT" GIVEAWAY YET?
IF NOT, BE SURE TO CLICK HERE! ONLY 3 DAYS LEFT TO ENTER!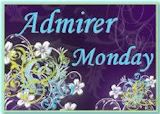 Hello Everyone! Today is Admirer Monday! Be sure to link up!
This past Saturday morning, I had the privilege of visiting the Lean Kids Class that is run through the Marion YMCA in Marion, IA by Becky Clabaugh. Becky and the Marion YMCA have partnered with Kara, the registered dietitian at the Marion Hy-Vee and Marion Independent Schools in Marion, IA to make this class available to kids and their families who may not otherwise be able to participate. This is a REALLY WONDERFUL program that focuses on helping kids make healthy changes in their lives through exercise, wellness, and nutrition education. The class runs for 6 weeks on Saturdays for 1 hour each week. Normally the class is held at the YMCA but this past week it was held at Hy-Vee where Kara organized a scavenger hunt for the kids to help them learn about how to make healthier food choices, read nutrition labels, and prepare a nutritious snack at the end. The kids were led around the perimeter of the store where they were instructed on the wonderful nutrient rich foods that they would be using to make their snacks. In addition, Kara taught the kids about NuVal, a type of scoring system for foods that helps you make better choices when grocery shopping. If you are interested in learning more about NuVal, you can visit their website. Currently, the Marion Hy-Vee has NuVal scores posted for a majority of the products they carry. I really enjoyed my visit and I hope that more classes like this will appear around the country!
Here are the recipes that are featured in the video:
Caramel Cheese and Apple Kabobs
Henning's Creamy Caramel Cheddar Cheese, cubed (if you can't find this, you probably could just use regular cheddar)

Apple slices

Wooden skewers or toothpicks
Cut apples into slices, thread apple and cheese onto kabob alternating apple then cheese, apple then cheese.
Valentine Parfaits
1/2 cup vanilla yogurt

1/2 cup Kashi Heart to Heart cereal

1 cup sliced fresh strawberries
In each of two parfait glasses (or small bowls), pour 1/4 cup cereal. Top each with 1/4 cup yogurt and 1/4 cup sliced strawberries. Repeat layers once. Serve immediately.
Thanks so much for reading everyone! Until next time, happy and HEALTHY cooking and EATING!