HAVE YOU ENTERED THE "MAKE YOUR OWN BABY FOOD KIT" GIVEAWAY YET? IF NOT, BE SURE TO CLICK HERE!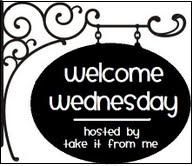 Welcome to everyone visiting from Welcome Wednesday! I hope you enjoy your visit here and will return again soon! Tonight's recipe is one that I have been making for AGES! I have already posted this recipe once on The Foodie Mommie. Click here to see the original recipe. Today I made a few alterations, just because I like to change things up a bit, especially with things I make all the time. I used tuna tonight, but sometimes I use salmon or halibut. In addition, this is one of Daniel's FAVORITE dinners!
Fish Cakes
3 (6 oz.) cans tuna, salmon or crab or 1.5 lbs cooked firm fish, flaked (tuna, salmon, crab, cod, halibut, for example)
1 (6 oz) package stuffing mix (I buy organic mix, or I use leftover stuffing after a holiday meal)
2 heaping tbsp. relish
1 cup grated cheese (I like to use cheddar with tuna,and parmesan or mozzarella with salmon)
1/3 cup mayonnaise
3/4 cup water
1 tsp. dill
1/4 cup broccoli slaw
1 egg, slightly beaten
I tbsp. dijon mustard
2 tbsp. butter, melted
In a bowl, mix all of the ingredients until moist. Spray a cookie sheet with cooking spray. I use a 1/2 cup measuring cup to form the cakes. Place each formed fish cake on the cookie sheet. Cover with plastic wrap and let chill in the fridge for at least one hour. These can be made up to 24 hours ahead of time and kept in the fridge. Remove from fridge after one hour (or longer) and drizzle cakes with melted butter (this helps the cakes brown up in the oven. Bake in the oven at 400 degrees for 20 minutes or until brown and crispy on the outside.
Tonight I served these cakes with some homemade tartar sauce and a simple tossed green salad. Yummy!
Before I sign off, I am proud to announce that very soon I will be offering my video demonstrations in a collection on DVD. I am also working on a cookbook that will be available on my site very shortly. I am also currently planning my next web class. I am still working on a topic, and would LOVE suggestions so please leave me a comment and let me know if you have any suggestions!
Until next time, happy and HEALTHY cooking and EATING!