This week I am featured on KdBuggie Boutique's Monday Mingle. I am truly honored and I hope that you will go and visit this wonderful blog.
Questions: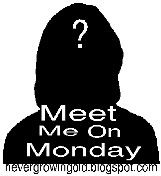 1. What do your normally eat for breakfast?
Cereal with berries in the summer. Oatmeal with dried fruit and sweet potato in the winter.
2. What kind of car do you drive?

2009 VW Tiguan
3. Have you ever met a famous person(s)?

Funny you should ask that..I sat next to a famous French tennis player (I can't remember his name) on a flight from London to Paris once, although I can't remember his name, and when I got off the plane Juliette was like "do you know who that was???" And I was like "no, who was it?" Also, my French family lives in the same neighborhood as Johnny Depp, Gerard Depardieu, and Yannick Noah. I have never met any of them but when David and I were in Paris last, we went and stalked Johnny Depp's house. That was fun. Also, my French dad is a sculptor and he did a sculpture of Demi Moore several years back for her movie Passion of Mind. It was when she was married to Bruce Willis and my French dad's studio is at the house, so they both came with their kids to the studio for several days in a row and then had dinner at the house one evening.
4. What is your favorite ice cream flavor?

Pistachio
5. Which TV Channel do you watch the most?

I actually don't watch a lot of TV. I used to watch Food Network a lot but I think it has gone downhill. I watch ABC a lot. I have an addiction to General Hospital...don't make fun of me.
I don't get many free things in the mail but recently I got a free $25 gift card from Starbucks. I also get my free drink coupons from Starbucks because I am a Starbucks Gold Card holder. I have received some coupons but they are for processed foods so I usually just toss those in the recycle bin. I got a box of tea in the mail as samples from ProFlowers, that was cool.